Interactive Climbing System
---
RichTech's interactive climbing wall is the first brand who has intergraded multimedia interactive function with the indoor climbing wall. Since the game is on the market, it has received good and positive feedback among participants, especially from kids and parents due to its strong play value, and it also brings much opportunity for parents to play together with their kids.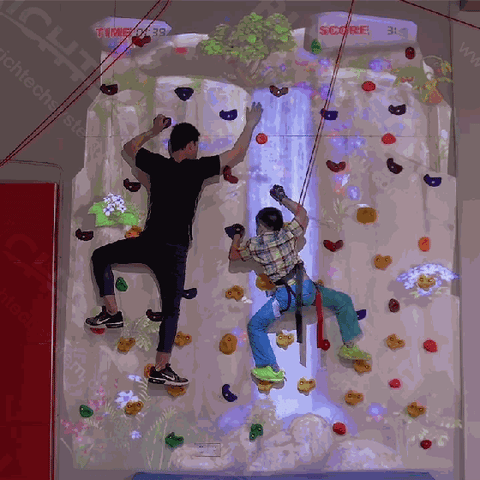 When the game starts, video is projected on the climbing wall, participants climb and try to make interaction with the characters of the games to win scores. The most popular games among them are Castle Battle, Catching Butterfly, My Big Tree, Treasure Hunting, Who is the Best? Each game is designed to include single player mode, battle mode and ranking function, which increases much competition than traditional wall climbing.
Richtech climbing wall builds up concentration, discipline, coordination, and strength, all qualities we're happy to explore. It also creates an excellent real-world playing environment, in which players are able to make exciting and stirring interaction with their partners, with the great help of RichTech's advanced multimedia hardware and software.
RichTech's interactive climbing wall game will definitely supply you an overwhelming unforgettable experience.
---